so yesterday i was out shopping around and saw this great set of cane-back chairs at the goodwill in sandy springs.  i really wanted to get them for myself and have the chair seats redone, but we really don't need them.  they are a steal at $8.98 per chair.
you could easily have the bottoms recovered.  it costs somewhere around $25 to get that done.  they also need a fresh coat of paint.  you could get that done with a can of spray paint.  to get all of these seats upholstered you would need about a yard and a half of the fabric of your choice.  if it were me i'd upholster them in a nice neutral linen.  something like this fabric from lewis and sheron textile company
or maybe i would use this awesome print from quadrille.  it's aga reverse from their china seas collection.
if you wanted to get more funky with them you could use a brighter pattern.  maybe this one called contessa from quadrille's home couture collection.
or this one from calico corners called samarkand summer.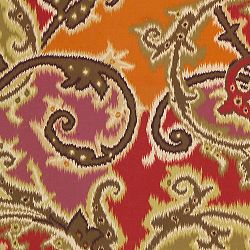 jennifer at the newlywed diaries even posted this blog yesterday.  take a look at the chairs around the table in this picture she posted. they look very similar to a fixed up version of my goodwill find.
someone please hurry to goodwill to get them before i convince myself that i need new dining chairs.  :o)